10 Common DIY Mistakes to Avoid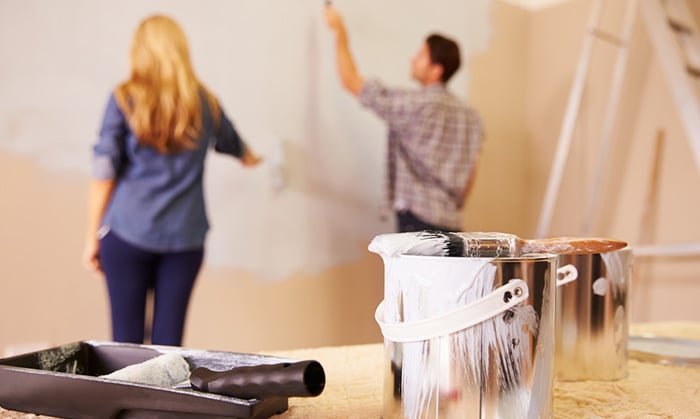 Whenever someone chooses to do a project by themselves there is always room for error. Not only is it probable that someone working by themselves will lead to it taking more time but there's also chance of the amount of money possibly doubling or even tripling.
No matter the method, the reason stays the same. DIYers, or people who would rather do projects themselves may make mistakes. Remember that time you bought the table pieces thinking that you could build a stand for the TV in the living room, only to find out that you didn't screw it in right and the TV fell off and shattered? Remember when you cried for hours because you couldn't watch The 100 on CW anymore? Now you have to buy a new table and a new TV.
We asked some home improvement experts on how to avoid breaking or destroying the things we hold dear in our household.
Ed Del Grande, hosts the DIY Network's "Warehouse Warriors" show, as well as other shows and building specials on the network. A master plumber, pipe fitter and fire-sprinkler fitter, Del Grande has more than 20 years of construction experience.
Lou Manfredini, the official Ace Hardware "Helpful Hardware Man", the home-improvement expert for NBC's "Today" show, the Chicago-based contractor also answers questions from DIYers on the Ace Hardware Web site.
C.J. Iannuzzi, owns 3SQFT, a design-build company in Miami Beach, Florida, and is a home-improvement contractor to the stars, including Madonna, Rosie O'Donnell, Gloria Estefan and Ricky Martin.
Barbara Kavovit, is the owner of Barbara K Enterprises. A New York City-based veteran of the construction industry, she now makes and markets DIY tools specifically designed for women.
Here is a list of the common mistakes they see:
1) Not taking out the required permits. Both Del Grande and Manfredini consider this a big issue for a couple of reasons. Permits do a lot more than just raising money for the government. Permits are there for the purpose of making sure a job is done right the first time so it doesn't have to be done again. There are also a handful of jobs that require a person to have a permit, such as putting in a wooden stove. If you're not sure if your job requires a permit or not, be sure to think of the size of the project. If the project is anything larger than painting or wallpapering, you will most likely need a permit.
2) Do not start a job without having all of the tools present with you. When you decide to begin a project it is important to make sure that you have all the tools necessary to complete it. If you don't, you'll only be wasting your own time. Make sure to buy equipment that is top of the line and good quality. Buying anything cheap will only lead to having to purchase it again, which will cost more in the long-run.
3) Make sure that the place that you are starting your project is good for preparation. There are a lot of mistakes that can happen when a project site is out of order. Items can be misplaced, or even stolen. Items can also be damaged if they are not looked after properly.
4) Not buying the right materials. Kavovit says she often sees DIYers use ¼-inch drywall for building walls. When building walls, you need to use at least 5/8-inch drywall so that the wall remains strong and lasts a long time. The same rules apply to plywood and subfloors.
5) Using the wrong paint. Being one of the most popular projects for DIYers, painting is something that many people love to do. It can make a place go from looking good to looking great. It is suggested that flat paint should only be used for ceilings. Interior paints should have a satin finish on them, so that they can be scrubbed. For outdoor painting use a linseed oil based stain, since it drives the pigment right into the wood.
6) Not preparing walls before painting. If you really want your bedroom to shine, you must prepare it before you even bring the paint inside the room. The walls need to be cleaned, and any holes must be patched. Iannuzzi recommends a coat of primer or stain blocker if you're trying to cover over oil based paint. It even covers over stains and paint that is already peeling!
7) Unsafe job conditions. It's one thing to think that you're going to save money by doing a job yourself. It's another to save money by not going to the emergency room for something that could have easily been avoided. Remember to wear safety goggles the next time you pick up that power drill, and a hard hat the next time you climb that ladder. Windows should always remain open while painting. The list goes on and on depending on what kind of work you are doing. For example, wearing gloves while carrying wood planks can save you from painful splinters or other injuries.
8) Various inaccuracies. It is better to be safe than sorry when it comes to any kind of DIY project. Measure that block of wood two or even three times before you begin to cut into it. This is extremely important when you are doing things like building walls or cutting baseboards. If you are not being very cautious when cutting something, err on the side of caution by making it a little longer than it needs to be. That way you can go back and make it shorter if necessary.
9) Know your own limits. Everybody has their limits, and projects should be exercised with caution. Some people are unable to work on a roof, while others are too nervous to paint a room for fear of making mistakes in the shading. Don't do anything on your own that you feel is out of your ability.
10) Failure to properly educate yourself. Try to find someone who is a contractor that you can work on a project with, and learn from direct experience. The contractor will most likely appreciate your help. Everyone has to start somewhere, so don't be afraid to ask for help.